A Green Party campaigner is backing Bradford Council's plea to householders to be careful when paying people to remove rubbish following horrendous fly tipping across Holmewood and Bierley.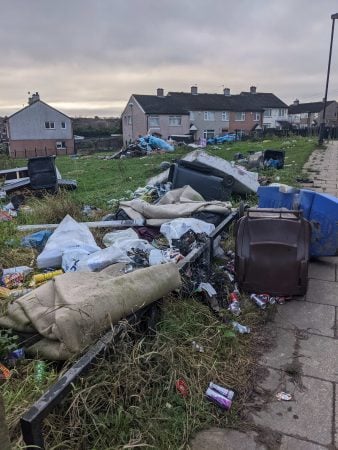 "Rogue traders", often advertising on social media platforms, are looking to make a fast buck at this time of year by picking up rubbish then fly-tipping on the district's streets and countryside.
Some parts of Bradford District have seen shocking levels of fly tipping with Melcombe Walk off Broadstone Way in Holmewood and Burberry Close, just off Shetcliffe Lane in Bierley being particularly targeted.
Matt Edwards, a community campaigner for Tong Ward has said: "Some of the examples of fly-tipping across parts of the south side of the city are absolutely shocking.
"Most of the waste we are seeing is household waste and we know that this is being done at an industrial scale by dodgy dealers. I am asking residents to be extra careful when paying people to remove their rubbish.
"Bradford Council offer their own collection service which is very reasonably priced and you aren't going to run the risk of an expensive fine."
A statement on the Bradford Council website says: "Householders need to be aware that if their rubbish is fly-tipped they can be held as responsible as the criminal who dumped it.
"All householders have a legal Duty of Care which requires them to take all reasonable measures to ensure that anyone carrying and disposing of their waste is authorised to do so.
"If you employ a waste carrier you must have details of the carrier's business and vehicle, a receipt for the transaction and a copy of the waste carrier's licence.
"If you cannot produce these to a Council officer, you can be liable for prosecution if the waste is dumped instead of legally disposed of at an authorised site. Not knowing the law is not accepted as a defence."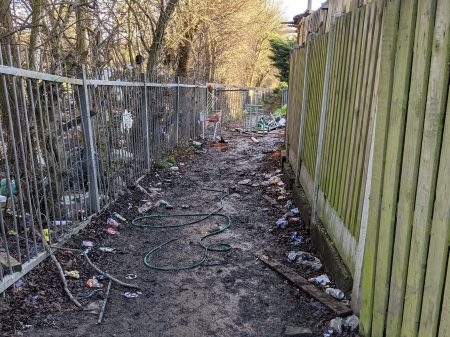 Bradford Council enforcement officers have the option of issuing Fixed Penalty Notices (FPN) of £250 to householders or to prosecute offenders.
Matt added, "Whilst Bradford Council is absolutely right to be raising awareness of this, it really is only scratching at the surface of the problem.
"I have been told that some of the sites I have raised are not suitable for the current surveillance cameras the Council has so they really need to think outside the box to tackle this problem.
"We also need a much more ambitious campaign to raise awareness of this problem and promote the council's own bulky waste services."
Earlier this year, residents of Burberry Close spoke to the Telegraph & Argus describing their battle with fly tipping.