"Why is it cheaper to fly to Glasgow than it is to get the train?" says Green Party councillor looking at attending the UN Climate Change Conference.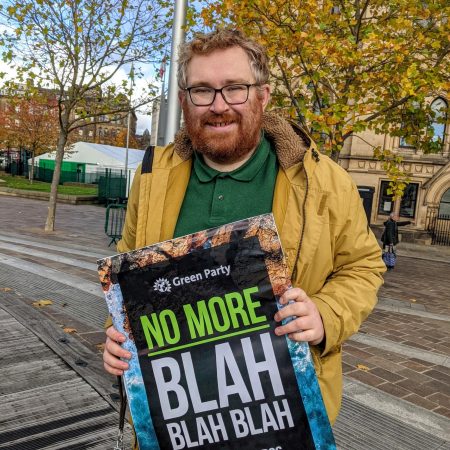 Councillor Matt Edwards (Tong Ward) has revealed that a flight to Glasgow from Leeds Bradford, via a stop off in Dublin was around THREE times cheaper than a train ticket.
Councillor Edwards used flight comparison site Skyscanner to find a return flight with Ryanair from Leeds Bradford to Dublin and another from Dublin to Glasgow International would cost £46. This is compared to an 'Anytime Return' ticket from Bradford to Glasgow which would cost £134.50.
Councillor Edwards said, "As world leaders are meeting in Glasgow to discuss how we tackle the environmental crisis, this situation is absolutely absurd. Why is it that a carbon intensive flight is significantly cheaper than the environmentally best option of a train ticket?
"Aviation is one of the high-carbon industries where reducing the number of flights is essential if we want to control spiralling emissions.
"In a country as small as the UK, there is no way that a flight should be the cheapest or easiest way to get around. But the failure of successive Labour and Conservative governments to invest in good quality, reliable and affordable rail means we are in this stupid situation."
The second cheapest flight option – at £47 would see two stop overs – one in Warsaw Modlin and another in Dublin. A round trip of nearly 3000 miles compared to a 200 mile train journey.
At present just 15% of people take 70% of flights in the United Kingdom – with over half of people not flying at all each year.
The Green Party has proposed a frequent flyer levy which would keep flight prices low for families taking their only holiday of the year whilst controlling the environmental impact of the small percentage who take multiple trips.