Following Crossrail opening, Greens demand closing the gulf between rail investment in South and North of England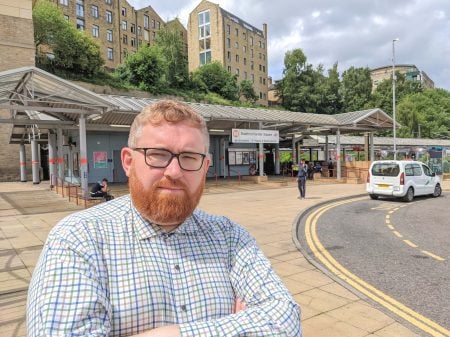 As the £18 billion pound Elizabeth Line opens in London, the Green Party has called for significant investment in public transport outside of the Capital.
Councillor Matt Edwards, the Leader of the Green Group on Bradford Council, has called on the government to match this ambition of spending across the North of England – particularly in Bradford, which was last year revealed as the worst connected city in England.
Earlier this year rail operator Northern reduced connections in Bradford, meaning direct services to Huddersfield stop earlier, and services to Ilkley were reduced to hourly – resulting in overcrowding on key rush hour services. Rail operator LNER also slashed services between London and Bradford last year.
Councillor Edwards said, "This government is constantly talking of levelling up, but there is a massive gulf between what is being spent in the South compared to cities like Bradford.
"To put this in comparison, if we were talking about the level of spending in London being replicated in Bradford, we wouldn't just be talking about Northern Powerhouse rail stopping here or a new station, we'd be talking about our own "crossrail" project connecting Forster Square and Interchange.
"This isn't about cutting investment in the South; it's about significantly increasing investment in the North to match it. Bradford is the fifth biggest city in the country, but our rail connections are worse than much smaller towns in the South East."
The first phase of the Elizabeth Line, also known as Crossrail, opened today and will connect Abbey Wood in southeast London to Paddington. Eventually it will include connections to Heathrow Airport and Reading.