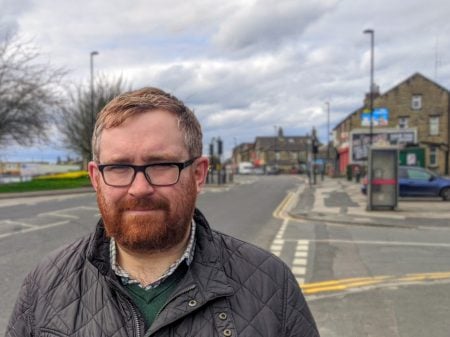 Matt first stood in Tong Ward in 2015 and campaigns across the local community on a variety of issues.
Matt has been campaigning on a number of big issues in Tong Ward including fly-tipping and making the areas safer. Matt has also been a prominent campaigner against Bradford Council's plans to build a new link road through the Tong Valley.
Matt was also the candidates for Bradford South in the last General Election in 2019.
Matt lives with his partner and, when not campaigning in the local community, works at a high street bank helping people to manage their financial affairs.
Data uncovered by the Green Party has revealed the worst fly tipping hotspots across Bradford over the last year. For the fourth year in a row, the Little Horton Ward […]
Bradford Council has agreed to measure its Local Plan against a set of standards called "Healthy Homes Principles" following a motion by a Green Party councillor. Speaking at the Full […]
Matt Edwards, Green Party councillor for Tong Ward has called for Bradford Council to ensure tackling illegal levels of air pollution are at the heart of a major road scheme. […]