Bradford's Green Party councillors have joined Green councillors from across the country by signing an open letter to Communities Secretary Robert Jenrick demanding emergency and longer-term funding to enable local authorities to continue to support communities during the coronavirus crisis.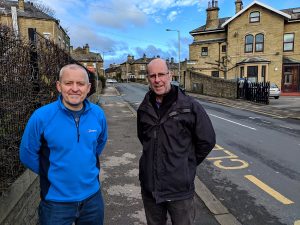 This comes as at the same time as a warning by the Local Government Association (LGA) said that the Coronavirus was pushing councils to 'financial failure'. They warned that without more funding some authorities would be forced to cut "vital" services.
The letter warns councils could lose up to half of their spending power this year if the lockdown were to last for just three months.
It also calls for local authorities to be given more flexibility to decide on how funds are spent, as they are best-placed to see where the real need is and how it can be tackled.
The letter has been sent by the Association of Green Councillors on behalf of councillors from across 120 councils, including Councillors Martin Love and Kevin Warnes and Green Party co-leaders Sian Berry and Jonathan Bartley.
Councillor Martin Love (Shipley) warned: "Here in Bradford, like every other county, district and unitary council, we are facing serious financial problems due to the coronavirus crisis.
"Bradford Council has had to make big changes whilst at the same time facing big strains on staffing levels, The council has, amongst other things, had to pay out for additional social care, food packs and housing the homeless - all amid a significant loss of income from charged-for services such as car parking and sports centres.
"The government has announced bail outs for big businesses like the airlines but they need to prioritising our local councils which provide the essential services we all use."
Green Party co-leader Sian Berry, a Green Party councillor on Camden Council, said:
"Several weeks into the lockdown and with the increased demand caused by the crisis it is clear that the initial funding the government has already announced for local authorities is simply nowhere near enough.
"Councils are stepping up and providing vital services to our communities. Vulnerable people are relying upon them for a rapid increase in support. But, after a decade of cuts and in the face of lost income as a result of the crisis, budgets are rapidly reaching breaking point.
"We urge the government to act immediately so that we can continue to do this essential work and not add further strain to the NHS and other essential services."