Volunteers have carried out a community clean up in Holmewood and hope to use this as a launchpad for further action days.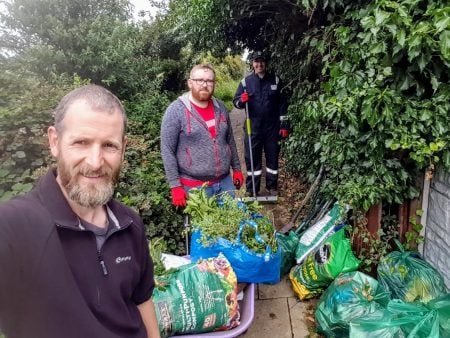 The group organised by Matt Edwards, Green Party Community Campaigner for Tong Ward, spent a few hours on Saturday morning tidying the passage between Andover Green and Tyersal Lane at the north end of Holmewood.
A large Ivy bush blocking the footpath was cut back and nearly thirty bags of rubbish were cleared from the hedgerows lining the pathway.
Matt said, "From speaking to people right across the estate there is a real desire to see action that will tidy the area up.
"We are really lucky to have plenty of green spaces here that should be free for children to enjoy safely without having to worry about potentially hazardous rubbish.
"The vast majority of people living in the estate really care about the area and there is a real community spirit here. Unfortunately, there is a very small number of people who just don't care.
"Just as we were finishing, one of the neighbours came out and cut back many of the brambles that were starting to cover the path. It is a big improvement.
"We hope that by organising more of these, we can start to turn things around and show those who engage in littering and fly-tipping that we've had enough."