Data uncovered by the Green Party has revealed the worst fly tipping hotspots across Bradford over the last year.
For the fourth year in a row, the Little Horton Ward is the worst area for fly tipping across Bradford with 930 instances reported during 2021.
This was followed by Bowling & Barkerend Ward (824 cases), City Ward (796 cases) which includes the City Centre and the University, and Toller Ward (765 cases).
Elsewhere Wharfedale Ward was once again the area with the lowest number of fly-tipping cases with just 30 cases reported in the entire year.
There were reductions recorded in most wards but by far the largest reduction was in Tong Ward – which includes Holmewood and Bierley - which had been the second worst affected area in 2020.
Celia Hickson, Community Campaigner for the Green Party in Tong Ward has said "The Green Party has been campaigning for years for far more action by Bradford Council to get to grips with the problem.
"Fly tipping causes misery for people living near the worst hotspots and we have to make life as uncomfortable as possible for the people who dump rubbish in our local environment. We've got to be clear that this is not a victimless crime.
"In Tong Ward, there has been a lot of work in the ward being done by the enforcement team and the wardens to tackle the issue and Councillor Matt Edwards has been doing a lot to raise awareness of the impact of fly tipping.
"I think this is the reason we have seen the dramatic reduction there. We have been warning residents against using rogue traders who offer to collect rubbish for low fees as they are often the ones who illegally fly-tip it, and in some case in very close proximity to where it was collected from."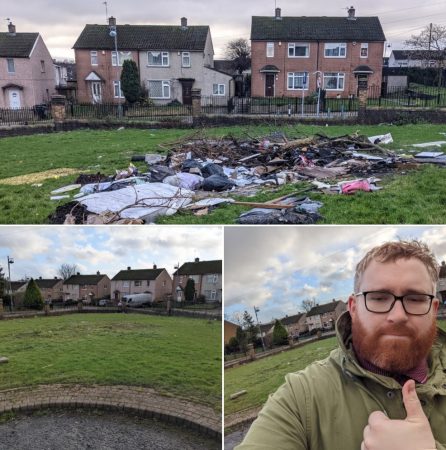 Earlier this month, Councillor Edwards posted photos of Camberley Mount in Holmewood which had been persistently blighted by fly tipping but had been rubbish free for quite some time.
Councillor Matt Edwards said, "Getting to grips with the fly tipping in Tong Ward has been one of my big focuses over the last year and I am pleased that there has not only been a significant reduction in the number of cases – but particularly in the areas with really significant fly tipping problems.
"Places like Melcombe Walk and Camberley Mount in Holmewood and the snickets behind Burberry Close in Bierley were almost completely covered in the most horrendous amounts of household waste - but now they are almost litter free.
"However, there is still a tremendous amount of work to do to deal with illegal traders who think they can get away with dumping rubbish in public areas. The only way to tackle this is to catch those doing it and I will be working with the area enforcement team to make sure we do that.
Fly-tipping in each part of Bradford ranked:
| | | | | |
| --- | --- | --- | --- | --- |
| | 2020 | # | 2021 | # |
| Little Horton | 1089 | 1 | 930 | 1 |
| Bowling & Barkerend | 868 | 5 | 824 | 2 |
| City | 953 | 3 | 796 | 3 |
| Toller | 902 | 4 | 765 | 4 |
| Tong | 1043 | 2 | 736 | 5 |
| Bradford Moor | 793 | 7 | 719 | 6 |
| Great Horton | 758 | 8 | 707 | 7 |
| Keighley Central | 598 | 9 | 705 | 8 |
| Manningham | 839 | 6 | 688 | 9 |
| Heaton | 505 | 10 | 468 | 10 |
| Worth Valley | 404 | 12 | 427 | 11 |
| Eccleshill | 340 | 13 | 354 | 12 |
| Keighley West | 249 | 21 | 311 | 13 |
| Thornton & Allerton | 474 | 11 | 306 | 14 |
| Clayton & Fairweather Green | 308 | 16 | 282 | 15 |
| Bolton & Undercliffe | 236 | 23 | 252 | 16 |
| Wibsey | 334 | 14 | 246 | 17 |
| Wyke | 268 | 17 | 242 | 18 |
| Royds | 315 | 15 | 236 | 19 |
| Queensbury | 265 | 18 | 208 | 20 |
| Shipley | 258 | 20 | 197 | 21 |
| Idle & Thackley | 241 | 22 | 176 | 22 |
| Windhill & Wrose | 187 | 25 | 175 | 23 |
| Keighley East | 188 | 24 | 174 | 24 |
| Bingley Rural | 260 | 19 | 132 | 25 |
| Baildon | 135 | 27 | 105 | 26 |
| Craven | 163 | 26 | 70 | 27 |
| Bingley | 134 | 28 | 69 | 28 |
| Ilkley | 48 | 29 | 66 | 29 |
| Wharfedale | 31 | 30 | 18 | 30 |